This post may contain affiliate links. Please see our disclaimer for more information.
A few weeks ago, I changed out the white sofa table for a brown console with drawers and shelving.  I decorated the top but put off decorating the shelves for awhile!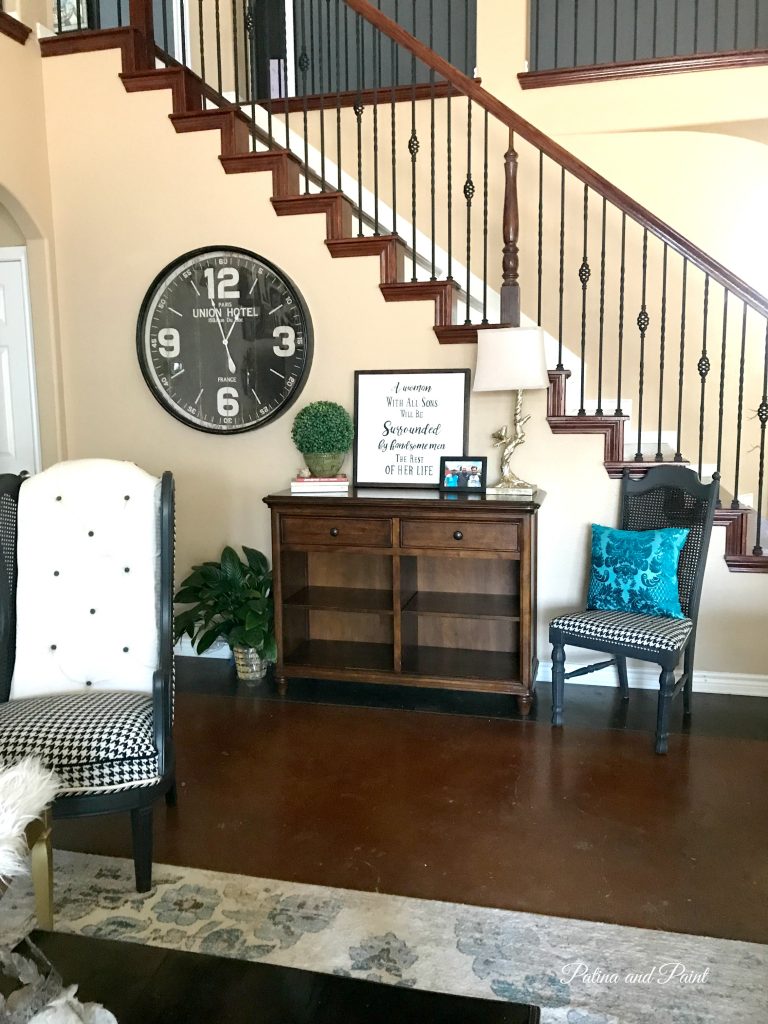 I wanted to find things I loved, not just fill it up for the sake of filling it up. Weeks have gone by and while I haven't found every thing that I want, I finally got around decorating the shelves!
My first instinct was to put large baskets on all four shelves.
Easy to find right? Wrong. At least not the kind I was looking for.
I wanted something lighter in color than the console, but not too light.
Texture was important too.
And I was on a budget.
Everything I found was the wrong color, there weren't four, or they were way out of my budget.
Back to the decorating drawing board!
I found these baskets first.
They were the perfect color and texture.
The price was awesome.
They were just kind of small.
Putting them side by side was the perfect solution!
Next decorating problem to address? The  shelving with out the baskets!
I wanted to keep things simple. No clutter.
Since I haven't found the perfect items yet, I decided to shop my house!
I found the second basket, and while it it isn't the perfect size it does have the texture and  color that I wanted. I plan of filling it with something colorful and fun.
My favorite piece on the shelving is the large jack.
I've had it for awhile. Only it was brown. When I put it on the shelf you couldn't see it.
Gold spray paint to the rescue!
Now it matches the cute rhino and the color really makes it noticeable. I love it.
As for the top of the console, I love everything except the green bowl.
In my mind, I see something in the light turquoise color that I have sprinkled around the room.
Maybe a vase or an awesome piece of pottery?
I'll know it when I see it.
Is it perfectly what I have envisioned? Nope, but it is so much better than empty shelves.
Plus, I will probably be decorating the shelves again with the changing seasons! Or if I get bored, or if I finally find the perfect pieces!
Until next time…..
          Tammy