This post may contain affiliate links. Please see our disclaimer for more information.
Today I'm sharing my Valentine's table with you. Specifically, my Valentine's Day Napkins. No one could be more surprised than me!
Full disclosure: I'm not much of a Valentine's Day celebrator. I don't like chocolate. Hey, don't judge! I'm not really a sweet eater, with one exception. If you are standing in front of iced sugar cookies, girl you best get out of the way! I tell you all of this because I don't normally decorate a lot for Valentine's Day except for my kitchen table.
As you can see from the above picture, my Valentine's table decor is usually pretty simple
This is what I started with.
And to be honest, it was fine.
Cute, colorful and functional.
But, it bugged me.
I mean, where's the fun in that?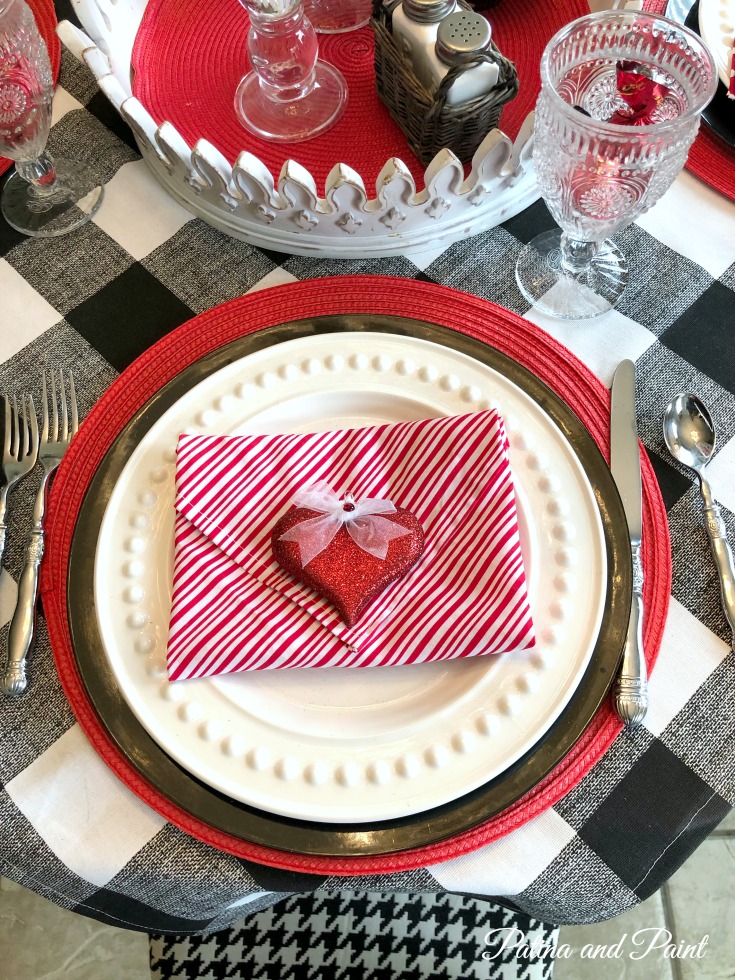 So I did what we all do and hit Pinterest to see what fun ways I could spice up my Valentines' table.
Specifically, with my napkins.
I started with fun and sweet envelope napkins.
These are fun because you can tuck sweet Valentine messages inside the flap!
Fun, but still not what I wanted.
Then I stumbled upon a heart napkin fold.
Once I folded one, I knew that it was a winner!
The only thing hard about this fold was getting the top of the heart to stay folded.
I had to iron them to stay folded under.
Honestly, if you have a lot of napkins to fold I would totally skip this design.
However, since I only had four, it was doable.
I love how my Valentine's Day napkins and table turned out.
This table really is me.
Fun, colorful and simple.
P.S. I did break down and buy a few chocolate truffles for chocolate lovers in the family.
It is Valentine's Day after all!
Until next time….
P.S. I hope that you check out the following link parties. Lots of great inspiration.